NW Bergen County Real Estate Market – April 2023 Recap
Four months into the year and 2023 is trending to be year with the lowest number of home sales in 15 years.
In April, home sales in NW Bergen were down 32% vs. April of 2022 and the low inventory is the reason. We had 116 fewer homes for sale in April this year compared to last year – a 35% decrease in new listings.
Simply put, there are just not enough homes on the market to meet the buyer demand and as such prices have not dropped as was expected when interested started their meteoric rise about 9 months ago. In fact, the Northeast was the only region in the country that has not experienced a decline in prices and that is apparent in this area.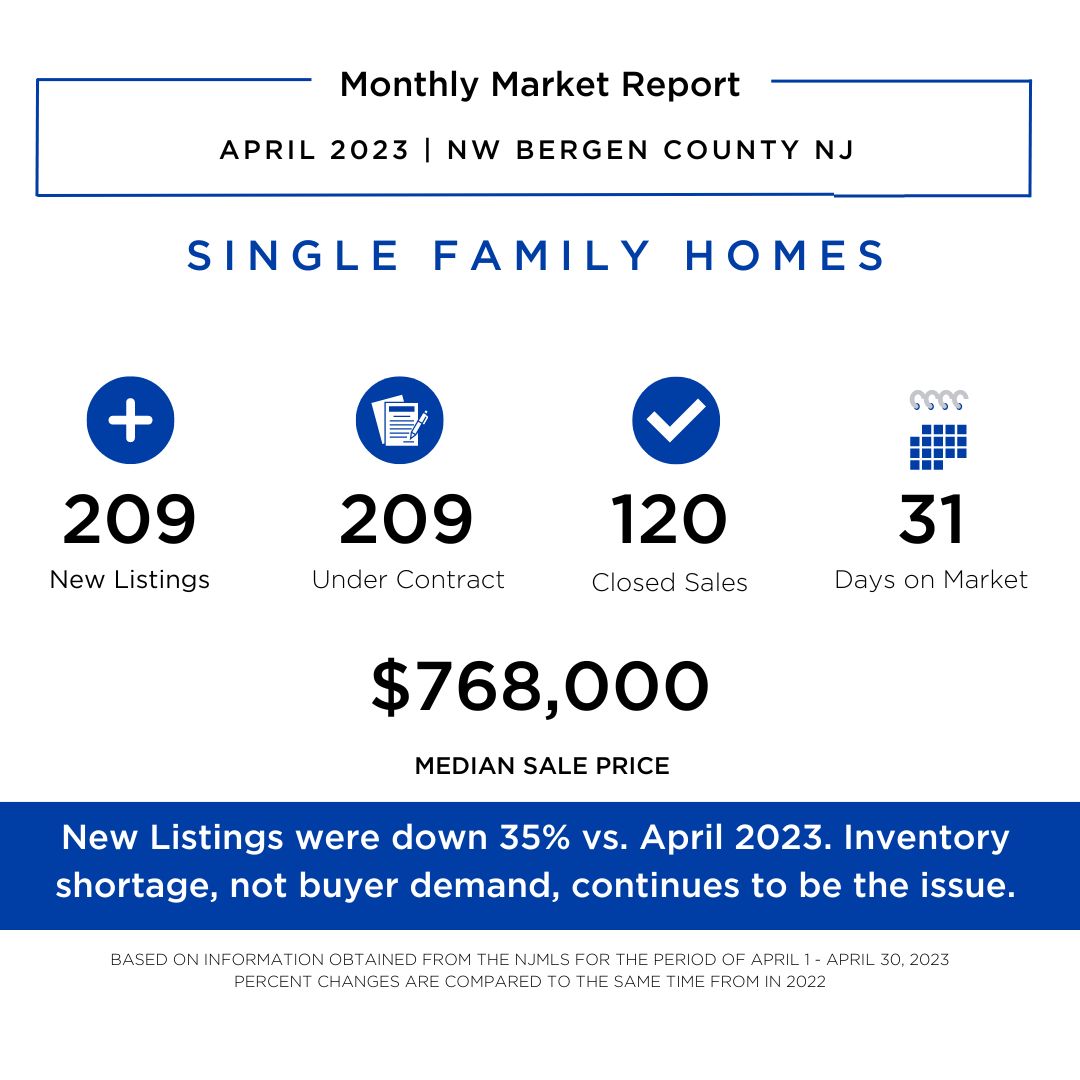 Low Inventory – when will it open up?
Our area is highly congested and there is almost no undeveloped land to be used. Unless a move is necessary due to death, divorce or relocation, many homeowners are staying put as they are sitting on historically low interest rates. June, which marks the end of the spring market, should see more homes for sale but it will likely be tight. July and August are typically slow and this year could prove to be even more so.
Multiple offers are the norm
There are still many bidding wars going on in NW Bergen County NJ, especially in towns like Ramsey, Ridgewood, Montvale, Ho-Ho-Kus, Wyckoff and Allendale. I recently submitted a CASH offer 10% over the asking price and my buyer was still 5th in line. Buyers need to be prepared to offer 10-15% more than the asking price and waive or limit contingencies like appraisal and inspections in these situations in order to win the bid. Sellers should feel comfortable that if priced right and marketed well, at least 1 offer should come about in a reasonable amount of time. If 10 days pass without an offer, the price likely will need to be adjusted. If not, there is risk that it will have a "what's wrong with it" stigma as so few homes under $1.1M linger on the market for longer than a week or so in this market. Buyers should align themselves with Realtors and lenders who know how to navigate competitive situations.
Forecast and Trends
It may be a little too early to tell how the Spring market will perform but it is trending to have the lowest number of sales since 2009. If you are Seller and have equity in your home, this is an unbelievable market for you to capitalize on. Buyers, don't get discouraged but be prepared to adjust your expectations. You may need dial down your price range to be competitive in the multiple bid arena or bend on your must-haves. But stay in the game even if it can be disheartening at times. Homeownership is a goal worth fighting for.
———————————————————————
Interested to know the 3-year trends in your town? Check out these stats:
Want to be the first to know? Join the INSIDE SCOOP. Interested to know what your house might be worth? Contact me today for a market analysis with NO OBLIGATION.