Real Estate Market Update – NW Bergen County
Recently, I attended Jeffrey Otteau's Spring Housing Webinar. Otteau, President of the Otteau Group, a real estate valuation company, shared trends and forecasts on the real estate market in NJ. Here are my key takeaways and a look at how the real estate market in NW Bergen County performed in Q1.
Low inventory even in the Spring and Prices are not dropping
Coming off almost 3 years of the most active time in real estate, we are facing a period that could be the least active in 10 years, predicts Otteau. Total sales in Q1 for NW Bergen County was down 28% vs last year. Why so? Many sellers who were looking to sell did so over the past couple of years to take advantage of the historically high demand while some homeowners are now reluctant to make a move because interest rates have doubled since they bought or refinanced. Even so, the single family homes that have hit the market in NW Bergen County this year through March, sold quickly by taking only an average of 50 days to go under contract (46 days for Condos).
Median sale price for single family homes stayed flat Q1 2023 vs. 2022 ($740,000). Condos in NW Bergen County saw a 38% increase in median sale price in Q1 2023 vs. 2022 – a huge jump year over year.
SINGLE FAMILY HOMES IN NW BERGEN COUNTY – Q1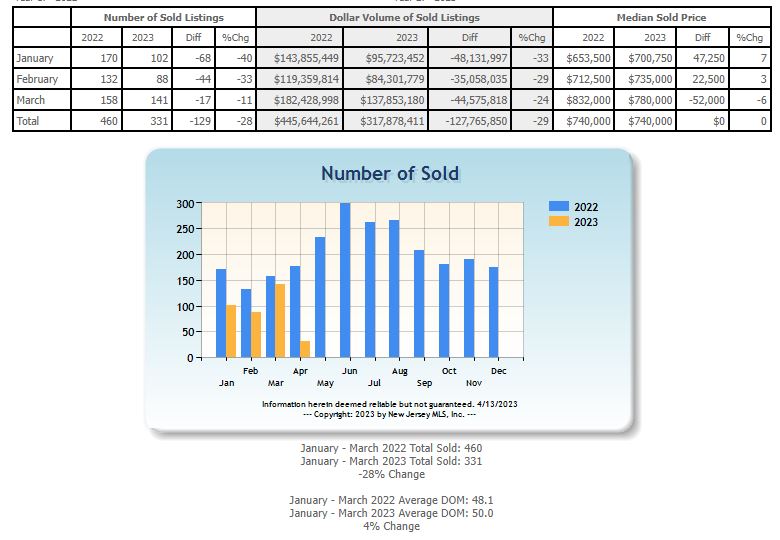 CONDOS/TOWNHOMES/CO-OPS IN NW BERGEN COUNTY – Q1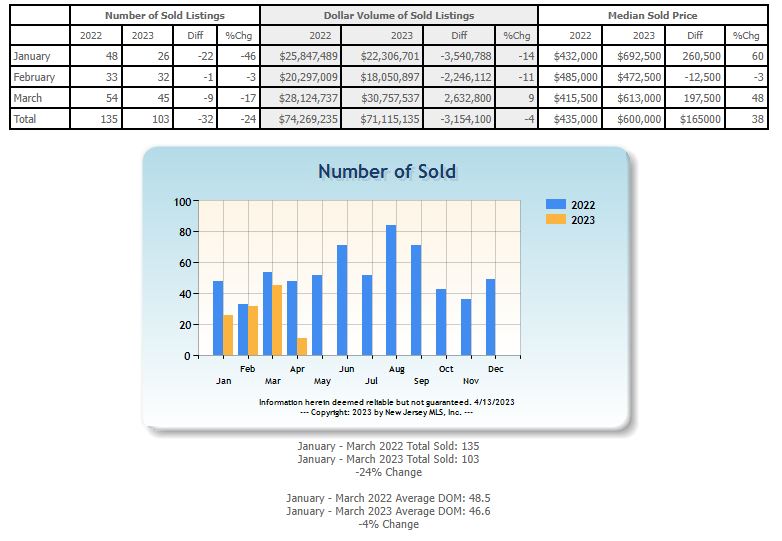 Interest rates remain elevated
The rise in interest rates has not had the effect on inflation that the Feds intended and so rates will not come down until that happens, says Otteau. Until we hit a recession, we can expect rates to stay at this level and perhaps even rise. There is still strong buyer demand that hasn't been satisfied and for homes that are priced right, especially homes under $1MM, we are still seeing multiple offers.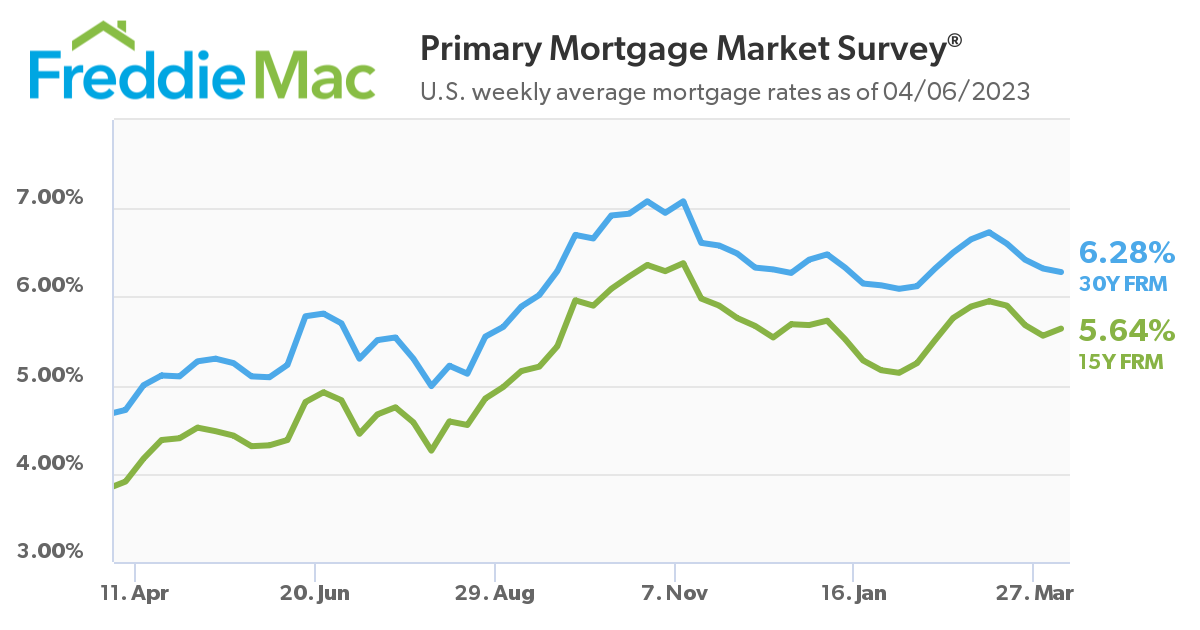 Energy-efficient homes will be important long-term
With increasing concerns about the environment and rising energy costs, homeowners are looking for ways to reduce their carbon footprint and save money on utility bills. Swapping out single-paned windows, replacing old wooden garage doors, and using energy-efficient appliances and LED bulbs can have an immediate effect. Saving money now is a great benefit but it will also add to the value of your home when you go to sell down the road, states Otteau.
It is still a seller's market in NW Bergen County and will remain so until inventory increases. However, pricing is critical. Even as buyers get used to these interest rates, they are still sensitive to home prices.
Interested in selling? Partner with professionals.
The real estate market is constantly evolving and aligning yourself with a real estate professional who has experience in all types of markets should be your first step. The Kristin Graves Team has over 30 years of combined experience and can help you navigate this challenging market whether you are a buyer, seller, executor or investor. Contact Kristin Graves today for a COMPLIMENTARY, NO-OBLIGATION consultation at 201-825-6600.